" Gemur " is the flagship brand of Shenzhen Ailian Garments Co., Ltd. Aili Lian Clothing Co., Ltd. was established in 20,010, is located in the beautiful bustling coastal city - Shenzhen, is specialized in high-end smart body underwear research and development, design, production and sales of large apparel companies.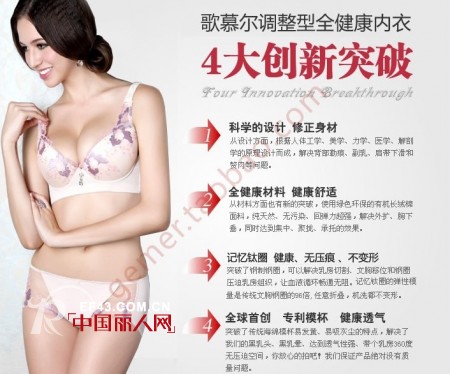 The company implemented a multi-brand management strategy and took the lead in creating the "Gemer Comme" brand. It has launched three major product lines: Commemorative Titanium Smart Body Bra, Fashion Slimming Underwear and Fashion Home.

Ailian company applied for Ni-Ti memory alloy titanium ring patent. And with Ni-Ti memory alloy titanium ring successfully replace the traditional stainless steel ring. Song Mull bra all use memory titanium ring, special launch "Memory Angel" bra products. Lead the bra third revolution, for the majority of women bring the gospel.

With its strong strength, high-end quality and reasonable price, GOMEUR will strive to become a leading brand of smart and body underwear in China and strive to become an internationally renowned brand and a hundred-year-old enterprise.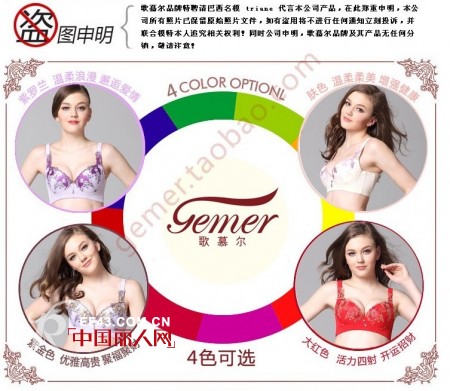 Brand Interpretation "g": the letters of the extension of the lines, artistic waving, on behalf of the feminine curves, giving the "healthy, elegant, beautiful," a good feeling. Chinese interpretation is: "song - praise, praise", "Mu - love", "Seoul - their own." Implied as: praise yourself, love yourself!

Brand Positioning

Design Style: Elegant, intellectual, fashion Product Features: Health, self-cultivation, conservation Consumer Positioning: 25 - 45-year-old urban women

Product advantages

Song Mull series bras, all used is "Velcro titanium ring," the patented product

1, super-elastic: elastic modulus is 96 times the traditional steel bra

2, temperature memory: memory function with temperature recovery

3, slimming massage: 360 ° comprehensive massage, promote blood circulation

4, comfort: "zero" oppression

5, healthy and environmentally friendly: does not contain any residual harmful elements

6, soft products: easy to wash and save, easy to carry

Custom Awards,Unique Awards,Personalised Awards,Custom Engraved Awards

Yiwu Hongsen Inport and Export Co.Ltd. , https://www.hongsenaward.com